The only possible explanation is that our Pop-up program is being blocked by your Pop-up blocker browser extension.
Why do we use Pop-up in our website?
Answer: Bluebirdonline.com make use of a non-malicious internal pop-up to display our products, open register/login page, open cart, etc., meaning our pop-up is exclusive for our product links and not for ads monetization like how google ads works and other similar platform.
What is dforce2plus.com or ecinteractive.com?
Answer: dforce2plus.com or ecinteractive.com is our main cms page. The reason we made the bluebirdonline.com page is to filter out our everyday low-priced quality items that we usually stock. Which means we already did the work for you and filtered out the best from hundreds to thousands of search results on a single item search.
Why is our pop-up being blocked?
Answer: Other website or company might have used a similar program that we use to display our products to run their ads. On the recent update of Popup blocker program, they might have added the software to it's filtering list regardless of it's function.
How do we resolve and make things work again?
Answer: There are two possible pop up blocking extension, the AddBlock Plus
or the AdBlock
. Please follow the instructions below;
How to White List bluebirdonline.com in ABP (AdBlock Plus)
1. Click on ABP icon
on the top right hand corner of your browser.
2. On the dropdown list select and click Options.
3. Click on the Whitelisted websites tab.


4. Type bluebirdonline.com
5. Click ADD WEBSITE/DOMAIN button and go back to bluebirdonline.com.
How to Exclude bluebirdonline.com from AdBlock
1. Click on the AdBlock icon
in the upper right hand corner of your browser
2. After the drop down list appears, click on the button that says "Don't run on pages on this domain"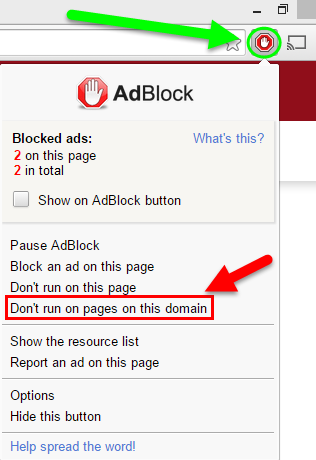 3. After a pop-up box appears titled "Don't run AdBlock on…", click on the button that says "Exclude"
If you have further questions, please call us.
Sources:
https://help. iheart.com/hc/en-us/articles/228919167-Disabling-AdBlock-or-Adblock-Plus-for-iHeart-com
https://www. minterest.com/adblock-vs-adblock-plus/